Disclosure:
Our site is supported by readers. When you purchase a service or product through our links, we sometimes earn an affiliate commission.
Learn more
.
HostGator Web Hosting is the power that runs 8 million+ web domains worldwide. It is also one of the best web hosting services we have in the industry right now, which also explains why it has been growing in popularity over the past few years.
HostGator was launched in 2002 and has since grown to become one of the best web hosting companies under the sun. Their monstrous growth is attributable to their top-notch web hosting plans, friendly customer support staff, and amazing shared hosting plans.
Today, HostGator has over 850 staff members who operate from the company's Houston headquarters.
WHAT MAKES HOSTGATOR WEB HOSTING DIFFERENT?
Well, as we said a few seconds ago, HostGator hosts over 8 million web domains spread across the world. However, the main reason why HostGator is a good option for both personal and business website hosting is its 99.99% uptime and 24/7 customer support.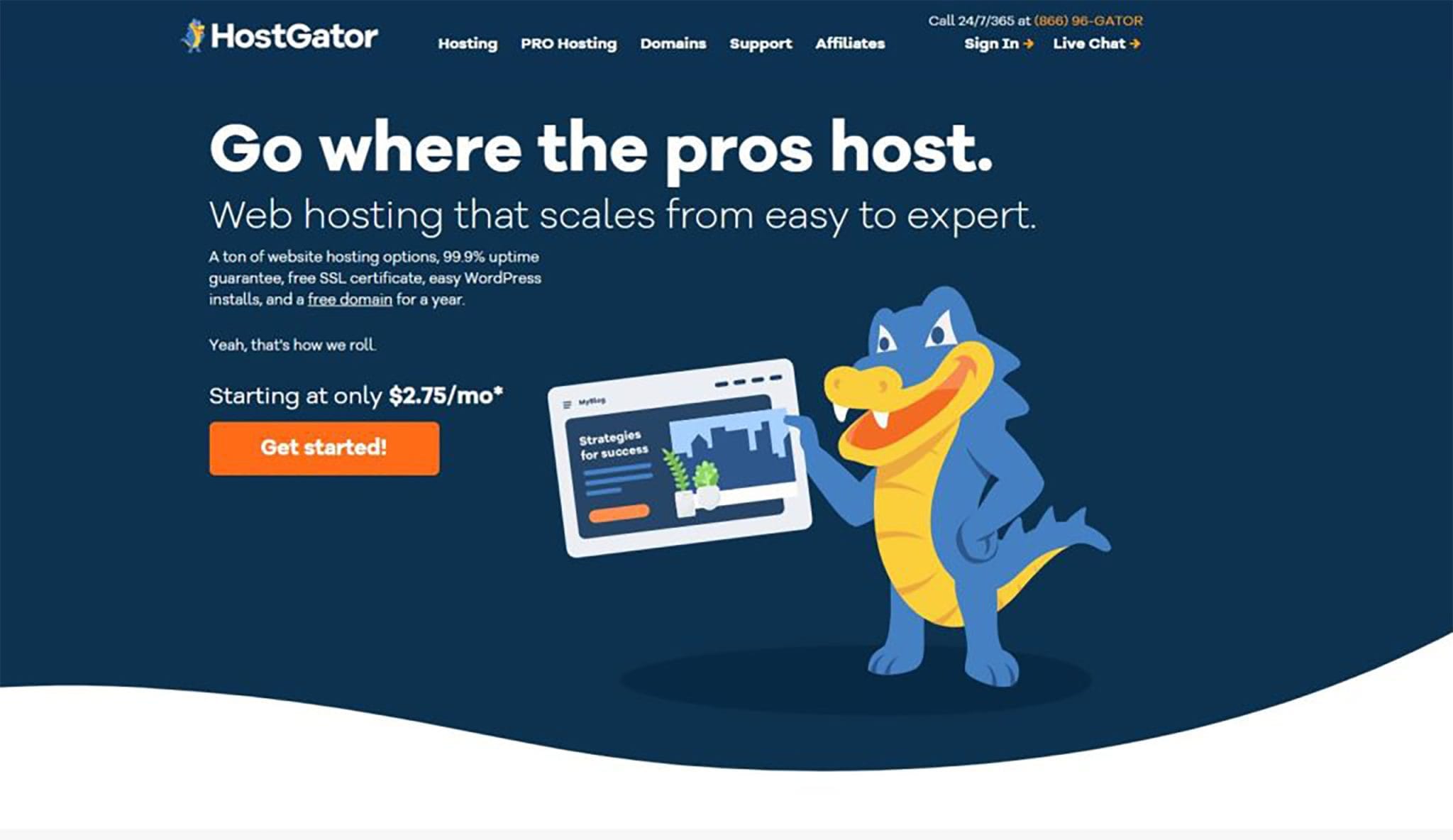 Other people love it for its exclusive mouth-watering discounts of up to 62% on some plans. For every plan, the web hosts provide a domain name and an SSL certificate, free of charge!
GENERAL INFORMATION
SPEED:
1,191ms (February 2018 – January 2020 average)
UPTIME:
99.98% (February 2018 – January 2020 average)
SUPPORT:
24/7 Live Customer Support
APPS:
Supports 75+ apps
FEATURES:
Unlimited Bandwidth
Unlimited Storage
One free email account
Free Domain for the 1st year
Free SSL Certificate
PLANS:
SITE TRANSFER:
Single Site Transfer (Free)
PRICING:
Starting at $2.75 per month and renews at $6.95 per month
MONEY-BACK GUARANTEE
45 DAYS
Let's take a look at other details about HostGator. This will guide you in deciding whether the web host is a smart choice for you or not. Read on
THE PROS & CONS OF HOSTGATOR
Every web hosting service has its unique selling points and weaknesses, too. Below are some of the pros and cons that you will realize if you opt for HostGator as your preferred Web Hosting.
Pros Of Using HostGator Web Hosting
High Uptime Guarantee: HostGator promises its users a 99.99% uptime. If you experience anything short of that, then the company will give you a month's credit.
45-Day Money-Back Guarantee. This is yet another reason why most people love HostGator. As is the norm, most web hosting services offer a money-back guarantee of up to 30 days. However, HostGator will generously refund you your money even after 30 days of using their products, at least if you don't like what it has to offer.
Unbeatable Hosting Plans. HostGator provides more great features on their hosting plans as compared to other website hosting providers. For example, on the purchase of a shared hosting plan, the company will give you email marketing software, free of charge!
Reliable Customer Support. Now, HostGator has the best customer staff ever! Those fellows will give every customer a shoulder to lean whenever there is a need. So, whenever you experience a problem, be sure to raise the issue with them and they will be happy to help you. Most users utilize the live chat feature because it is fast and very reliable.
Cons Of Using HostGator Web Hosting
HostGator does not provide free domains to users who sign up for the one-month plan. Also, you have to pay for 3 years upfront if you want the best deals from the company.
HOSTING PLANS & FEATURES
Whether you are a newbie or a Pro, HostGator has great products and services for you. With their shared hosting offering, you can easily set up your personal or business website, so you can begin working on generating more traffic to your site. Yet still, you can upgrade your plan as your site grows.
HostGator provides monthly shared hosting plans but pushes customers to sign up for a longer-term of not less than six months. While some users enjoy such arrangements that save them the hustle of month-to-month service, others feel that being pushed into paying for three years upfront is just too much.
The Hatchling Plan

This is the cheapest offering from HostGator and it comes with unlimited storage, databases, and support for e-commerce and content management systems. And just like any other cloud hosting plan, Hatchling provides an SSL certificate, free!
If you opt for this plan, you may also need to add more security tools such as CodeGuard, SiteLock, and more, of course at an additional cost.
The Baby Plan

This one is a slight improvement of the Hatchling plan. It offers unlimited domains to users who sign up for the offering. This plan comes with more CPU space and twice the memory in the Hatchling Plan., which explains why it is the most popular plan from HostGator.
Finally, there is the top-tier offering …
The Business Plan.

This one comes with such specialized options as a private SSL certificate, a free toll number, and more. Like Baby Cloud Hosting, it also offers unlimited domains on every single plan.
If yours is a heavy business such as an e-commerce site, then you may need this plan because it will give you 6 GB of RAM and 6 cores as compared to 2 and 4 cores on the Hatchling and Baby offerings.
Alternatives to HostGator Cloud Hosting
You will agree that cloud hosting isn't everyone's cup of tea, right? So, if you are looking for traditional hosting plans, you may consider the following options:
DEDICATED SERVERS
Dedicated Server Hosting. This means that you are renting physical servers for your website and you won't be sharing resources with other users. If that is the case, then this is the fastest option from HostGator.
VPS HOSTING
VPS Hosting. With this plan, you are offered an array of software options and full root access to your site's virtual private servers.
WORDPRESS HOSTING
CLOUD HOSTING
FEATURES ON ALL PLANS
Free Domain name and registration
Easy Sign up process
45-Day Money-back guarantee
Payment via checks, wire transfers, money orders, credit cards, and PayPal
Easy-to-Use cPanel
One-Click Installs
So, Is HostGator Worth It?
Yes. HostGator Web Hosting offers great products that suit the needs of everyone. Even if you are a total beginner, there is no need to panic because they have all the tools you need to get started! And if you face a problem along the way, their professional and friendly customer support staff will help you out, instantly.
Over 8 million people trust HostGator. That should send a signal your way. Try HostGator today.