Disclosure:
Our site is supported by readers. When you purchase a service or product through our links, we sometimes earn an affiliate commission.
Learn more
.
One important factor when choosing the best web host for your personal or business page is the price. However, never settle for less just because you are looking to get a product or service within your small budget, right? Hostinger Web Hosting was established in 2004 in Lithuania. Since then, the company has grown to become one of the most sought after web hosts.
With Hostinger, you can easily get web hosting services for as little as $0.99. Most people like Hostinger's honesty – actually they display their server status on their portal, for public scrutiny.
BUT WHAT EXACTLY MAKES HOSTINGER DIFFERENT?
Well, to begin with, Hostinger offers users the much elusive performance and reliability. Truth be told, no web host will give you 100% uptime. However, Hostinger will offer you something close to that – 99.9% uptime.
Secondly, Hostinger boasts superb loading speeds of 350 ms. Why would loading time matter, anyway? A site that loads faster gives users the best experience with your site. As such, you can rest assured that your site won't have a high bounce rate.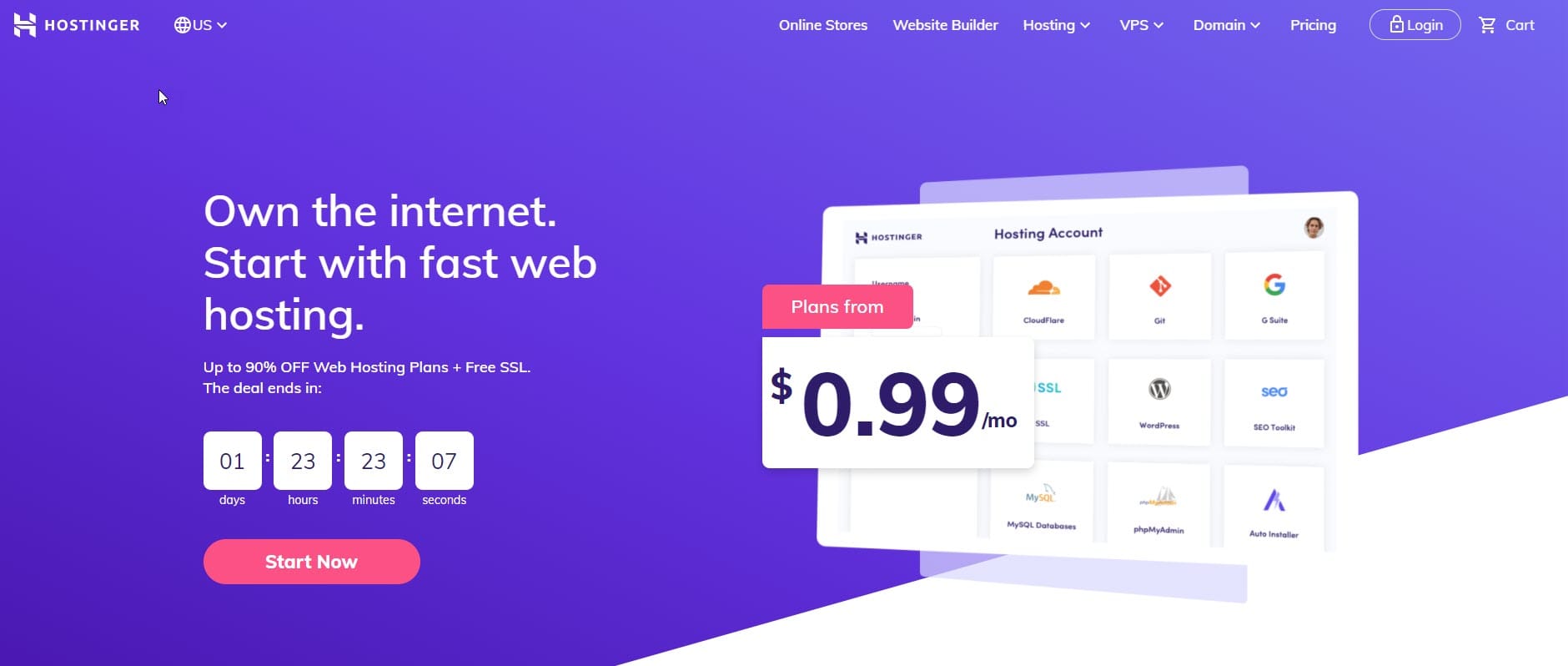 Each of Hostinger's servers – located in the USA, UK, and Asia – is connected to high power connections, which gives websites stable loading times.
GENERAL INFORMATION
SPEED:
350 MS (February 2018 to January 2020 average)
UPTIME:
99.95% (February 2018 to January 2020 average)
SUPPORT:
24/7 Live Chat
APPS:
WordPress, PrestaShop, OpenCart, Drupal, and Joomla
FEATURES:
100GB Bandwidth
10GB Storage
One email account
Website Builder
SSL certificate
30-day money-back guarantee
PLANS:
cPanel Hosting
Dedicated resources to scale.
Minecraft Hosting
CyberPanel VPS Hosting
SITE TRANSFER:

Single Free Transfer
PRICING:
$0.99 per month and renews at $2.15 per month
HOSTINGER WEB HOSTING PLANS
As per their website, Hostinger has the following offerings: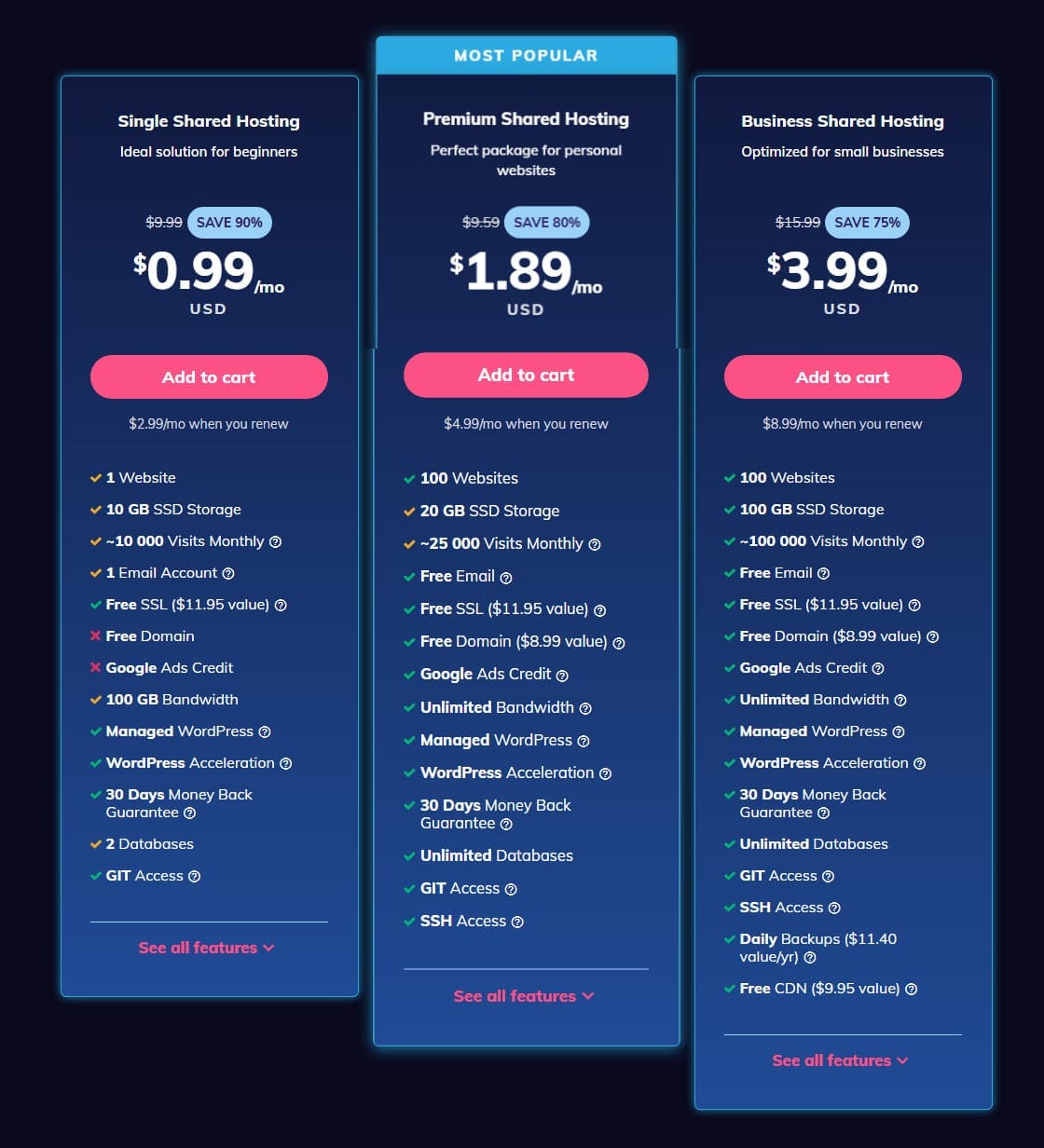 Single Shared Hosting
This is the cheapest offering from Hostinger. It will only cost you $0.99 to get a shared plan that renews at $2.99 per month. In the package are one website, 10GB storage, one email account, free domain, 100GB bandwidth, WordPress acceleration, two databases, an SSL certificate, and a 30-day money-back guarantee.
If you are a beginner, it is important to choose this option even as you plan to upgrade later on.
Premium Shared Hosting
This is the ideal option for people looking to run personal websites. Additionally, it is the most popular option.
If you opt for this plan, you will need to part with an introductory amount of $1.89 per month. Afterward, you will be renewing your subscription at $4.99 per month.
For this hosting plan, you get hosting for up to 100 websites, 20GB storage space, free email, free domain, free SSL, unlimited bandwidth, managed WordPress and WordPress acceleration, GIT and SSH access, and everything else in the single shared plan.
Then, there's the…
Business Shared Hosting
Hostinger's Business Shared Hosting is meant for small businesses. This plan will cost you $3.99 per month for the first month, after which you will need to renew at $8.99. Signing up for this offering will give you hosting for up to 100 websites, 100GB storage, free email, SSL, domain, SSH and GIT access, free CDN, and daily backups.
CLOUD HOSTING
VPS HOSTING
Want to know if Hostinger is a smart web hosting option for you? Take a look at the pluses and minuses of this hosting provider.
THE PROS OF HOSTINGER HOSTING
1. Fast Loading Time
Have you ever visited a site that took centuries to load? What did you do?
There are chances that you didn't stick around that site for long. If a site takes more than three seconds to display the intended results, most people are likely to abandon it – that's a fact!
As we said earlier, Hostinger uses high-power servers to run websites. It is reported that each of Hostinger's servers is connected to a 1000Mbps connection! This explains why sites hosted on Hostinger load quickly.
2. Guaranteed 99.95% Uptime!
There is no doubt that only a few people take uptimes and downtimes seriously. However, an uptime guarantee should be your priority when choosing the best web host for your business because it can make or break you big time. You see, every site needs to be up all the time as any downtime may cause you to lose potential sales.
If downtimes persist, your site may even lose its ranking in Search Engine Results Pages (SERPS), which you don't want.
Hostinger is always committed to ensuring that its customers get value for their money. If you experience site uptime of less than 99.9% emanating from the web host's end, just reach out to them and they will refund up to 5% of your monthly payment.
3. Responsive Customer Support
You will agree that there are two categories of support teams. There's the rude, unprofessional lot, and then there is Hostinger's fun and responsive staff.
Also, Hostinger's live chat feature is always active throughout the day, so you can always reach out to their multi-lingual support team anytime
4. Cheap Hosting Plans
With as little as $0.99, you can get a great hosting offering from Hostinger. What this means is that you are going to get fast load speeds, a high uptime guarantee, and more just within your budget. If you are a new user, make sure to take advantage of the huge discounts that the company offers to new customers.
5. Supports Both Linux and Windows Hosting
This is yet another benefit of choosing Hostinger as your preferred hosting service. Apart from the traditional Linux hosting plans, Hostinger also offers Windows hosting for users who sign up for VPS plans.
6. Easy-to-Use Interface
Hostinger has a modern user interface with all tools in one location. Thus, it becomes easy to track billing information, monitor emails, manage domains, and more. Also, the icons on the dashboard are conspicuous enough to make it easy for users to find what they need.
CONS OF HOSTINGER HOSTING
No Over-the-Phone Support
While Hostinger Web Hosting has a robust and fun customer support team, it doesn't offer phone support. Also, you can't submit a ticket over the live chat features unless you are logged in.
HIDDEN FEES AND CLAUSES
Hostinger is known for its transparent pricing. Depending on the offering you opt for, the web host will disclose the full amount before redirecting you to the checkout page. Additionally, everything in the cart is labeled clearly. Hostinger doesn't charge a user any hidden fee at all.
VERDICT
Hostinger Web Hosting is growing in popularity every day. Reports from the company state that they receive over 10,000 customers every other day. This is attributable to the involvement of the web host in the excellent job of catering to small scale businesses and individuals who are looking for simple sites.
Hostinger's selling point is its fast loading speed and cheap rates. Generally, Hostinger is a good option for all. Therefore, it is hereby recommended!