Disclosure:
Our site is supported by readers. When you purchase a service or product through our links, we sometimes earn an affiliate commission.
Learn more
.
Internal linking is a pretty popular word in terms of blogging, website, and On-Page SEO. It helps you to index and rank your website faster on the first page.
When it comes to crawling the site, internal links are one of the popular methods to index your other pages with the help of one page. As we know, Google's spiders keep crawling the websites so if your internal linking is not proper and relevant then Google takes much time to crawl all the pages one by one.
Improper internal linking also decreases the user experience, which eventually increases the bounce rate. Linking one page to another page is very time taking and hectic work, especially when you have hundreds of pages on your website. So to solve this issue, we are here.
In this post, we are going to reveal the top 5 best WordPress Internal linking plugins that will surely help you to improve URL Rating for SEO.
So without any further delay let's jump into the main topic and find out the 5 best WordPress internet linking plugins for WordPress.
5 Best WordPress Internal Linking Plugin & Benefit Of Internal Linking:
Before we start the article, you must be aware of the benefit you get from Internal Linking.
Crawling: Internal linking is an effective way to index your post into google. As we mentioned above Google's bots continuously visit the site, so it is helpful for them to crawl and index articles effectively.
Bounce Rate: Creating the relevant internal link decreases the bounce rate of your website and increases page views.
SEO: Proper and applicable internal link also helps your On-Page SEO.
5 Best WordPress Internal Linking Plugin
#1. LinkWhisper:
The first Internal link plugin is LinkWhisper. This is one of the best plugins in the market for Internal linking. As soon as you install and activate it into your WordPress site, it starts scanning the entire site and suggests to you that the most relevant post should be linked to a particular post.
Not only that but you can see all the internal links on a dedicated report, which makes it even easy for you to track the broken link, crawled link, error links, and many more in one place. Within the plugin, you can easily fix the 404 pages or broken pages as well. You can track all kinds of links and error links on the report.
Advantage:
This is simple to use and easy to set up.
Immediately internal link suggestion.
Fix 404 and broken pages.
Disadvantage:
Doesn't suggest external links.
#2. Interlinks Manager:
Interlinks Manager is also one of the amazing plugins for internal linking. With the help of this plugin, you can easily calculate link juice. The interlinks manager plugin helps you to find relevant posts for internal linking in the post-editing section.
Once all the links are set you can export the entire data in a CSV file to track them, or if you wish to set a particular keyword to an internal link, you can set it up, and it will automatically create the link.
This plugin by default comes with English and Italian language but if you want to translate to your native language it allows you to do so. You have to burn your pocket with 39$ for a single user, but the pricing is worth the feature it provides.
Advantage:
Report exportable in CSV file.
Automatically create the link.
Calculate Link Juice.
Disadvantage:
Pricing at the higher side.
To extend the support system you have to pay 12.75 $ more.
#3. Rank Math:
If you are in this field then you must have heard about Rank Math. It is mainly known for its SEO optimization plugin, but one of the key features is Link Suggestion.
Advertisements
It automatically scans your site and depending on your article, automatically suggests the most relevant article. The key feature of the Rank Math is Keyword Rank Tracking, Automatic Image SEO, Keyword Placement and many more.
This is free to use a plugin for WordPress with limited features, but if you want to take the benefits of premium features then you can upgrade it.
The plan starts with 59$ per annum and along with that, they offer users a 30 days money-back guarantee. Rank Math enables you to create a sitemap of your site and other features.
Advantage:
30 days money-back guarantee.
Keyword tracking automatic image SEO are key features.
Allows users to import settings from other plugins.
Disadvantage:
59$ for a year may hurt the users.
#4. Yoast SEO: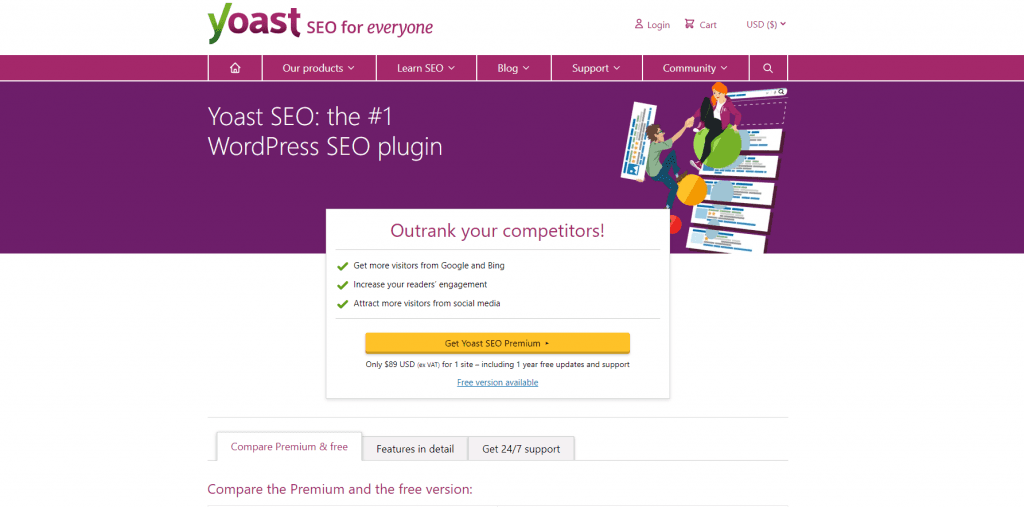 To be honest, Rank Math and Yoast SEO are the biggest competitors in terms of SEO plugins. These two are leading in the market. Yoast plugin is available in multiple languages including English, Dutch, German, French, Russian, Italian, Spanish, Swedish, Portuguese, and others.
The premium plugin allows users to add hierarchical links to the relevant pages and helps you to improve your SEO score. When you buy the plugin and implement it in the WordPress site, it automatically finds the keywords and suggests you insert a link in the post.
Yoast plugin is not only that, in fact, more than this, it enables you to summarize the internal links in one place with a proper report.
Advantage:
Available in multiple languages.
Automatically find the keywords and suggest them accordingly.
Improve on-page SEO score.
Disadvantage:
In the free version, the interlinking feature is not working.
The size of the plugin is a bit heavy.
#5. Internal Link Juicer:
Internal Link Juicer is our last plugin to save your time for internal linking. All you have to do is configure the Anchor Text for internal linking and rest it automatically for you.
It saves time for inserting individual links for every post you create. You can import the Focus keyword from Yoast and Rank Math plugins.
This plugin is best for affiliate links, it finds the target keyword and interlinks which generates more sales for you. If you don't want to contain generated links will be kept on the blacklist.
Advantage:
Automatic do internal linking.
Allows users to import settings from Yoast SEO & Rank Math.
Best for Affiliate Marketing.
Disadvantage:
Sometimes automatic remove the internal links.
Last Word:
Internal linking is one of the most important factors for SEO and ranking. It is easy to make internal linking but when you have hundreds of pages on your site or blog then it's time-consuming and most importantly difficult to find the most relevant and right page for the post.
Here comes the WordPress Internal Linking Plugin which makes it easy for you. In this post, we shared the 5 Best WordPress Internal Linking Plugins To Improve URL Rating for SEO.
We hope this article was helpful for you. Thank You.