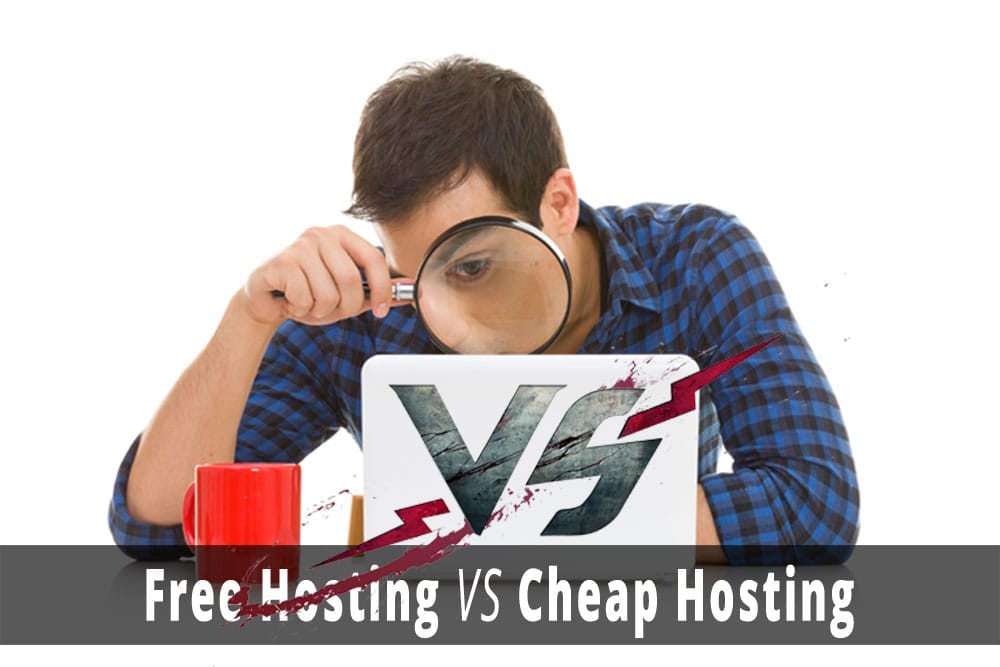 Disclosure:
Our site is supported by readers. When you purchase a service or product through our links, we sometimes earn an affiliate commission.
Learn more
.
The choice of web hosting is an important decision for anyone venturing online. Recent technological development and a growing number of hosting companies have driven down the prices of hosting services significantly. A basic hosting package on a shared server is available for as little as $2-$5 per month. Still, some people prefer to go with a free hosting service, especially if they are absolute beginners and would like to learn and test some things before spending any money. Is it worth saving a few bucks per month? What are the differences between the low-end shared hosting and free hosting?
Cheap shared hosting – where most people should start
A cheap shared hosting package is where most people start. A typical shared hosting plan allows you to host websites based on one of the most popular content management systems such as WordPress or Joomla while giving you a lot of flexibility in terms of website content, features, domains, MySQL databases and many other options that depend on the 'level' of the package, but even basic ones offer a lot more than a beginner would ever need. Also, while being really well-prepared to serve someone in setting up their first or second website, they are also reliable and offer great tech support – everything one may need when starting an online venture. How does free hosting compare to that?
You might like to read:
👉 How to Start a Domain and Web Hosting Company
Free web hosting services – are there any hidden costs?
Most people know that almost nothing in life comes absolutely "free." The same applies to so-called free hosting services. There are two different types of free web hosting services; the first one are sites such as 1freehosting.com and 000webhost, which offer you a server management panel similar to a typical shared hosting one (1freehosting even gives you free CPanel access). The other type of services are websites such as Wix and Weebly, where someone can create a site for free using the site builder. Such websites are usually under the domain .wix.com (or .weebly.com respectively). This isn't a typical hosting service, but rather, a website building platform with the option of paying to remove ads and connect your own domain. This article will focus on comparing the first type of free hosting services with cheap shared hosting plans.
The limitations of resources
Free web hosting services come with a big number of limitations. Although some of them (such as 1freehosting.com) offer CPanel, most of the time the backend is something totally different. This can make such hosting panels much more difficult to manage, especially for newbies, as CPanel is one of the easiest to use control panels available. Moreover, the backend is usually lacking most common applications and features, such as auto installers or easy server resources management. On the other hand, even the cheapest shared hosting packages offer CPanel and access to most of the popular applications such as WordPress or Joomla.
In terms of resources, both free and cheap hosting services impose limitations on used resources. Don't get mislead by ads or specifications telling you something is 'unlimited.' If you drive too much traffic, or your website becomes too heavy on resources, your site can get temporarily disabled, and you will be asked to upgrade your package. That's what happens on a cheap shared hosting package. What happens on a free one? Just like with shared hosting you will be asked to upgrade to a paid plan (if the company even offers one), or you will be asked to pay for unlocking additional resources, or you might even be banned immediately without the right to copy your site. Some companies offering free hosting may even try to 'force' an upgrade on you – and if you don't agree they may delete your account together with your website.
The level of support
Users who choose free hosting or a cheap shared one, are most of the time extremely low on budget and don't have too many skills or knowledge (lack of knowledge is probably why they chose free hosting in the first place). This means that such users will require more support than typical users who have some experience. While cheap shared hosting companies will require you to wait for even 1 or 2 days (24h-48h) for an answer to the most simple questions, support is where most of the free hosting services ditch the adjective 'free.'
Submitting a simple support ticket may cost you on average from $1 up to even $10, with $5 being one of the most commonly reported figures. That's actually more than what some companies charge you for a whole month of hosting on a shared server, with support included! To make matters worse, many companies don't even answer your questions, or if they do, they provide an answer which is not satisfying for a beginner and as such is not even worth the money spent.
You don't really own the data
When you sign up for a paid shared hosting plan, even if it's cheap, you own the data on your server. Your website is your estate, and you pay a company to host it. You are their client and you are treated as one. Hosting on a 'free' server usually means that you may lose your data anytime, and you are not protected in any way from damages. If you want your site to be secured, never go for free hosting – in the end, the cost will greatly surpass the savings.
Even if you manage to set up a website on a free hosting service, most of the time access to it is going to be compromised due to the poor performance of the server. Not only could your site be slowed down because of server-side limitations; any potential revenue may suffer due to ads shown by most of the free hosting providers. Keep in mind, that while free hosting is great for testing, there's no way you should ever keep your "money sites" on it. Usually the number of domains and subdomains that you can set up on a free hosting service is highly limited, and often there's no way you could host more than one or two sites.
The purpose of your website
There's a reason why every website is created. What's yours? Are you doing it to start a business? Are you starting up a blog? Are you learning? In any of the mentioned situations, it's worth investing a few dollars to get something stable you can work with. Sometimes you can find articles online telling you that a small business can be started off on a free hosting service. That's absolutely true, but there's no reason why you shouldn't spend just a few bucks for a better start. Compared to all other business expenses, that's actually not that much.
Final words
Whatever the goal of your site you should remember that nothing in life comes free. Unless you are doing some tests and you don't want to host your 'test project' on the same server that you already own, there's no reason to go with free hosting. Limited resources, unwanted ads, lack of control over your content and unexpected server downtimes – that's just a few things that should put you off from choosing a free server.
A good shared hosting package can be really powerful, but even those for $2 or $5 bucks are not bad and are quite often more than enough for a newbie. If you want to build an online business, it's good to learn how "professional" hosting and website control panels work from the very beginning. While at first the few dollars per month may seem wasted, as the time goes by you'll never regret giving yourself a chance to learn to work in a real web hosting environment as opposed to what a free hosting service can offer.
If you are still hesitating and are considering going with one of the free hosting options – think whether you are serious about your online ventures, as you may be just wasting your time.